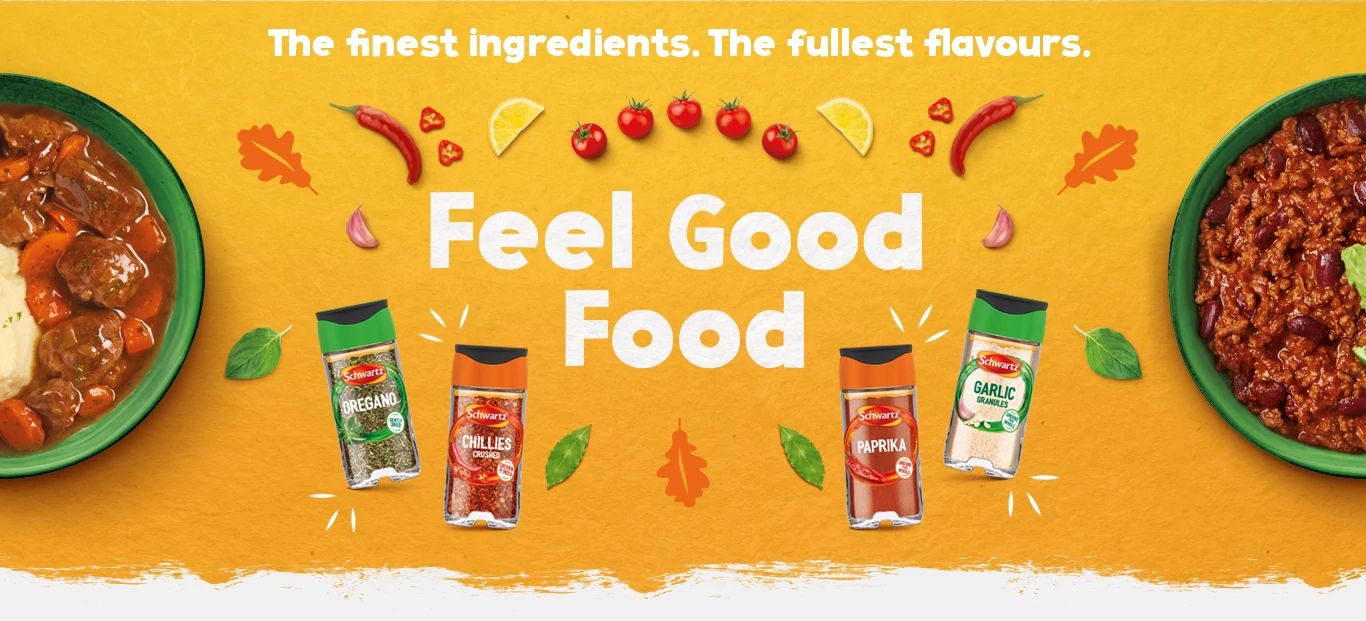 Feel good food
Discover Our Autumn Recipes
Get inspired by our go-to-collection of healthy, easy to make, classic Schwartz recipes. Perfect for an autumnal evening, our tasty treats and family favourites are both simple to cook and good for you, whilst being guaranteed to tantalise your taste buds.
Taste Explorers - Spice Jars
Discover our extensive range of spice jars, packed with the finest natural ingredients to deliver mouth-watering dishes every time that they are used. Warm any autumnal dish with a pinch of Turmeric, Paprika or Cinnamon, or a twist of a family favourite such as Garlic.
Autumnal Recipe & Spice Mixes
Our range of easy to use spice and recipe mixes help to transform any recipe in to a delicious and warming meal, including firm favourites like Chilli Con Carne and Spaghetti Bolognese, all of our mixes will delight both friends and family.
Discover How Schwartz Brings the Finest Flavours Straight to Your Kitchen.
Watch our latest TV advert to see how we bring the finest ingredients and fullest flavours from local producers to your table!
From local farmers, to your table. Find out how Schwartz brings the finest ingredients, and the fullest flavours, right in to your kitchen and dishes.
Discover how a pinch of that, or a sprinkle of this, produced via authentic methods, can transform the simplest dish in to a tasty, tantalising and lip-smacking delight.