Guide to the health benefits of nuts, seeds and grains
Although small in size, nuts, seeds and grains are excellent, densely packed sources of nutrition. In fact, this tiny food group can contain some of our highest sources of fibre, protein and nutrients that we need as part of a healthy lifestyle.
Whether you're sprinkling them on top of your breakfast for a delicious hazelnut-spiced granola or eating them alongside a yummy Peruvian cod with a corn and quinoa salad, there are plenty of exciting ways to add more nuts, seeds and grains into your daily diet.
Here, we'll cover some of the biggest health benefits of the world's most popular seeds and grains to add some healthy inspiration into your home menu.
Chia seeds benefits
Chia seeds are the tiny dark seeds of the Salvia Hispanica plant – a member of the mint family originating from South America. You'll often see chia seeds as a great supplement to porridge, protein bars and breakfast smoothie bowls, and these powerful little seeds are actually packed full of nutritional health benefits. Chia seeds are said to have cardio-protective benefits, linking them to lower blood pressure and good heart health. They are also excellent for helping to stabilise blood sugar, thanks to them being rich in poly-unsaturated omega- 3 fatty acids. As an ingredient, chia seeds have an incredibly versatile range of uses. Their ability to absorb liquid and form a gel means that they are a good replacement for egg, and can be used to thicken sauces.
Pumpkin seeds health benefits
Harvested from the insides of a pumpkin, the pumpkin seeds we buy from the supermarket might seem a little different to the white seeds that come from carving at Halloween. That's because green, oval-shaped pumpkin seeds are usually sold with the shell removed. You can eat pumpkin seeds in both forms, as the shell is safe to eat and contains lots of fibre. And because they contain a substantial quantity of healthy fats, magnesium and zinc, pumpkin seeds have been associated with improved heart health, prostate health and can reduce inflammation. They can be added easily as a simple garnish to many meals, but taste even better when toasted like in our recipe for pepita and chilli salsa.
Benefits of walnuts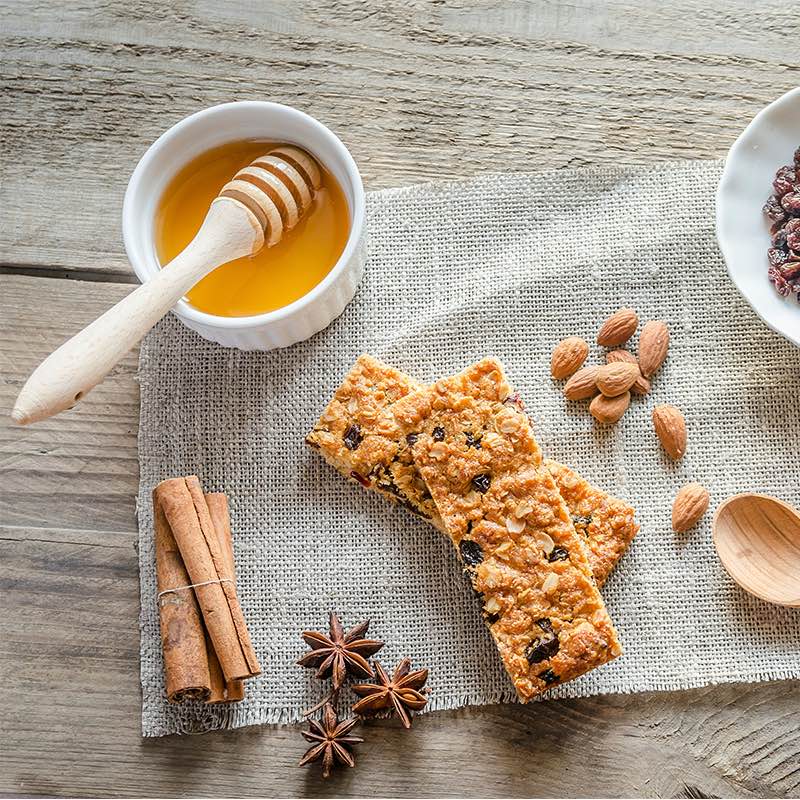 A valuable source of Omega-3 fatty acids, walnuts are said to help support brain function and even lift our mood. These fatty acids are important for the central nervous system, and some research suggests that they can help with certain mood disorders by helping to improve brain signalling and the creation of neurons. If that wasn't enough, walnuts may improve cholesterol levels and reduce the risk of cardiovascular disease. There are plenty of ways to incorporate walnuts into your diet – from healthy granola bars to toasted walnut dip – but of course walnuts also taste great on their own or as a crunchy ingredient in baking.
Quinoa benefits
Fluffy, nutty and crunchy, quinoa is a versatile grain that can be a great healthier alternative to white rice. Originating from the Andes Mountains of South America, quinoa has an ancient history as a staple food source in Peru, Bolivia and Chile. Taken from the seeds of a flowering plant in the amaranth family, quinoa actually belongs more to the same plant species as beets and spinach. Today, its widespread popularity has meant that quinoa has grown to be loved as a superfood, praised for its many health benefits. High in protein, quinoa contains all nine essential amino acids, which means it is an excellent plant-based protein for vegetarians and vegans. It's also much higher in fibre than most other grains, which is useful as research indicates that fibre can lower blood sugar levels and cholesterol.

Almond benefits
Although often classed as a nut, almonds are actually seeds from the almond tree. Loved for their unique flavour, almonds are a popular addition to many delicious bakes and cooking recipes – take our spiced apple strudel and creamy chicken korma for example. As well as their amazing flavour, almonds are really great for our health. Studies have shown that eating a healthy portion of almonds per day (55g) can aid in weight loss and reduce heart disease. When consumed as a snack, almonds can ease hunger without increasing weight gain. Rich in nutrients that support the heart, almonds are a great source of vitamin E, unsaturated fatty acids and magnesium.
Benefits of spirulina
Praised as one of the world's most nutrient-dense foods, spirulina is a blue-green algae that grows in both fresh and salt water. Spirulina is a powerful antioxidant that boasts a number of health-related benefits. Usually available in powder form, Spirulina contains all kinds of valuable nutrients – it is high in vitamins A, C, E and B as well as calcium, iron, zinc and magnesium. Said to protect our cells and tissues from damage, spirulina has anti-inflammatory properties too. Some studies have also shown that consuming it every day can help to reduce blood pressure and help aid in blood sugar control.
Benefits of porridge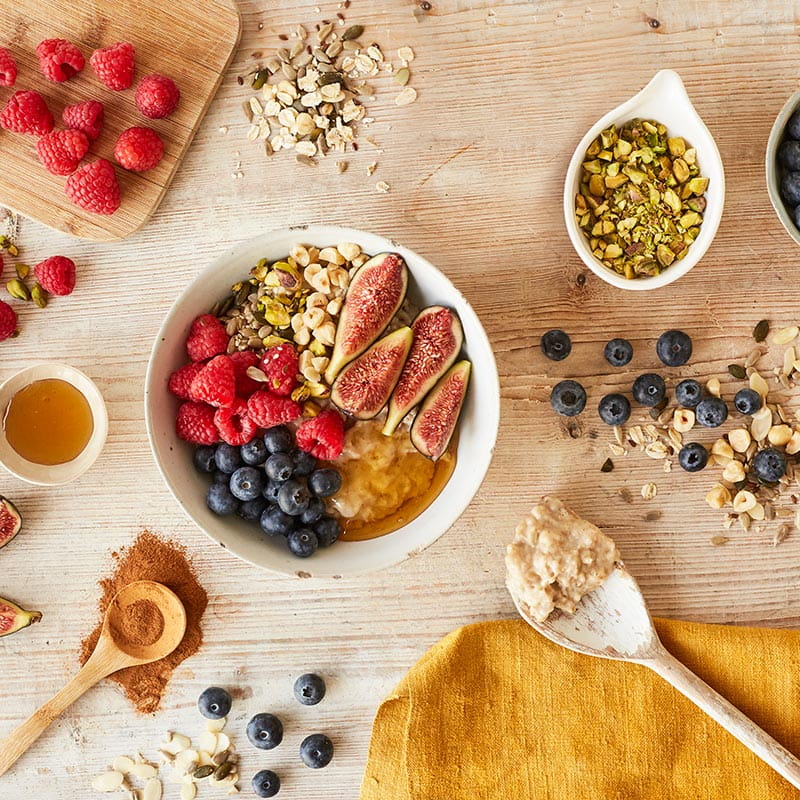 Commonly eaten for breakfast, porridge is made by heating oats with milk or water. It is creamy and delicious on its own, or can easily be flavoured with fruit and spices like cinnamon in our cinnamon porridge with berries recipe. But there's a reason why porridge is best eaten in the morning. Oats are a complex carbohydrate which provide slow-releasing energy throughout the day. High in a fibre called beta-glucan, eating 3g of oats every day can also help lower blood cholesterol level. To get the most nutritional benefits out of your porridge, it's better to choose oats that are not rolled or processed.
Now that you know all the fantastic benefits of different nuts, seeds and grains, why not try and incorporate them in to our range of healthy brunch recipes.
This versatile flavour is used to complement a huge variety of savoury dishes including all kinds of meat and roast potatoes. We only crush and dry fresh whole garlic cloves for a sweet and strong flavour. Our convenient-to-use garlic has a beautifully crisp aroma and classic taste to finish your dishes with fantastic flavour.