9 Ways To Re-Create Your Favourite Takeaway Dishes At Home
As seen on

All the tastiness with none of the guilt!
Hankering for some Chinese food? This 5 spice prawn stir fry will satisfy your needs!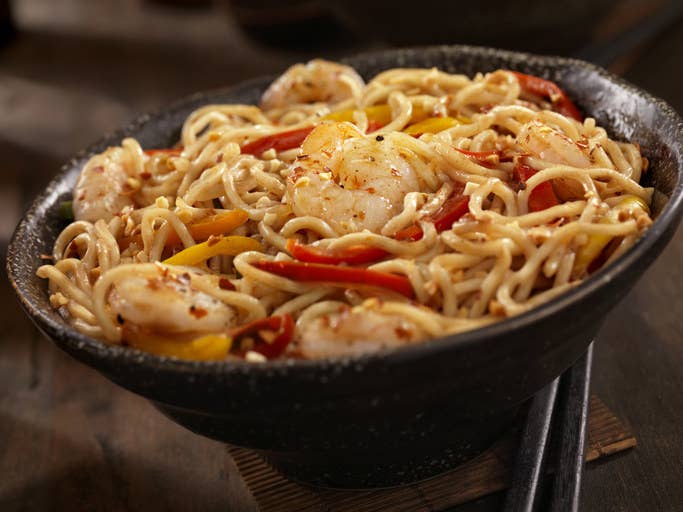 This prawn stir fry is not only extremely tasty, it's also super quick and easy to make, meaning you'll be chowing down in no time. Flash fry your veg for around 2–3 minutes so it retains its crunchy freshness, and be sure to coat your prawns in a healthy amount of Schwartz Chinese 5 Spice to give it a scrumptious and authentic taste. Boil your noodles and add them to the pan for around 1 minute, making sure they are fully coated in the sauce before serving.
These super-satisfying chicken quesadillas are perfect for lunch.
Missing those work lunches you used to treat yourself to? These quesadillas are incredibly easy to make, and great for when you have some leftover ingredients that need using up. Start by mixing Schwartz cajun spice with some olive oil and evenly coat your chicken. Heat up a large frying pan and spread one side of your tortilla wrap with butter. Once your pan is sizzling hot, place the tortilla in the pan butter side down, and add your ingredients on top, including cheese (cheddar works well but mozzarella is even better). Lay a second tortilla on top with the buttered side facing upward. Flatten your quesadilla with a spatula and flip once the bottom starts to become crisp and the cheese starts to ooze.
These spicy chicken nuggets will really hit the spot.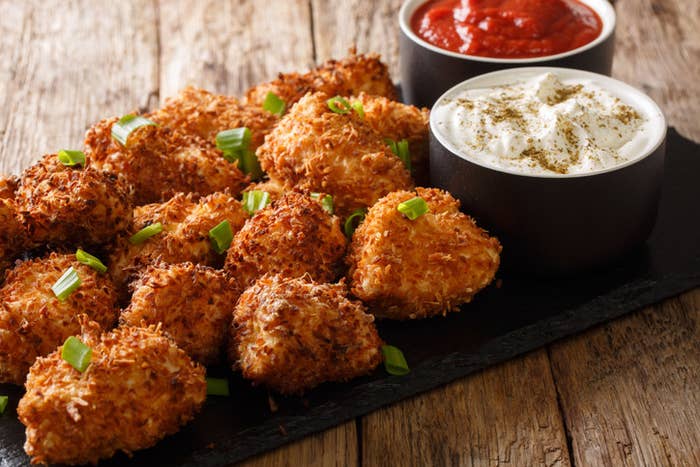 Spicy chicken nuggets are great on their own or alongside some crispy salted french fries. Add plenty of Schwartz cayenne chilli powder to give your nugs a mouthwatering fiery kick, and pair them with a cooling mayo for a wonderful contrasting flavour profile.
Don't bother ordering in. Cook this fiery Balti chicken instead.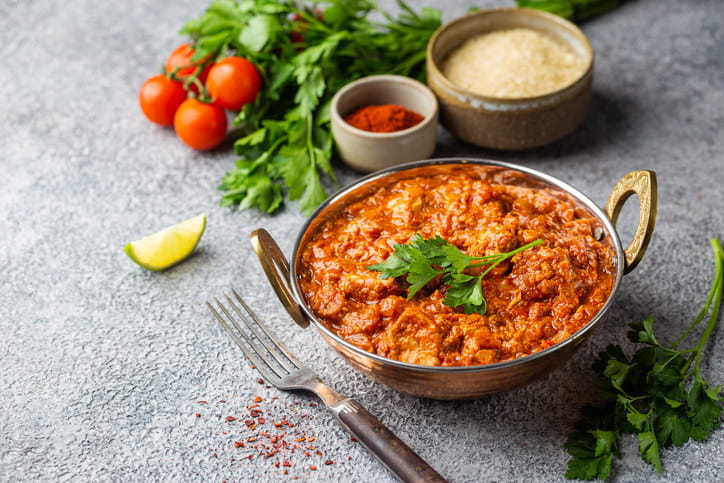 This takeaway-inspired Balti chicken is perfect for a weekend treat. Put chopped onion and chicken thighs in a pan and fry for around 5 minutes. Add 2 generous tablespoons of Schwartz hot curry powder for a rich and spicy flavour, then add chopped tomatoes, a bell pepper, water, plus a little bit of flour to thicken, and simmer for around 10 minutes! Serve with rice and a cooling dip of natural yoghurt, cucumber, and Schwartz coriander.
Get those taste buds tingling with some spicy Jamaican jerk chicken.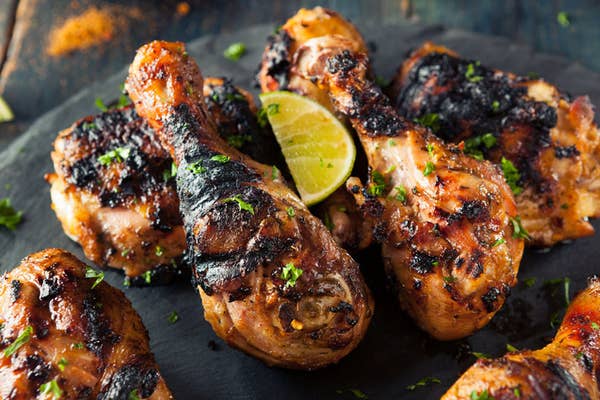 This mouthwatering dish will have you craving more after every bite. Use the Schwartz jerk seasoning for hassle-free cooking that doesn't compromise on taste. Marinate your chicken overnight in the fridge to really bring out the jerk seasonings exceptional flavour profile. This meal works best with chicken legs and wings, which are far more tender and flavourful than chicken breast. Pair alongside some sweet potato fries and wash it all down with a refreshing ginger beer.
Want something fast that doesn't compromise on taste? This vegetable chow mein will hit the spot!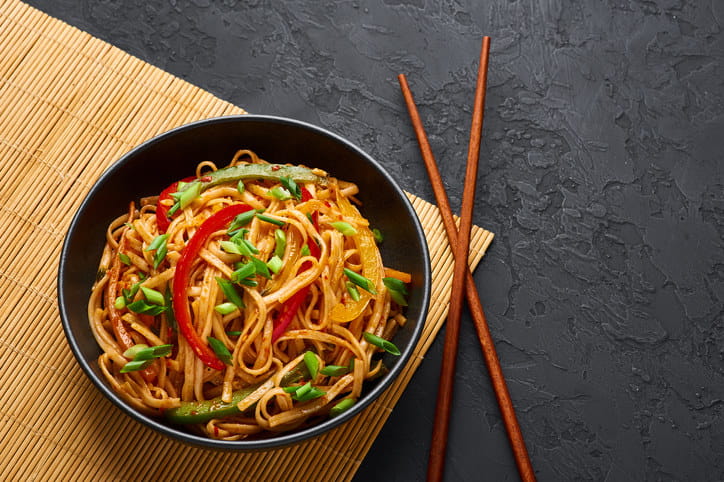 This scrumptious chow mein with crunchy vegetables is sure to go down a treat. This dish is not only extremely easy to prepare but it also cooks in just 10 minutes, meaning you will be feeling satisfied well before the delivery driver could even leave the restaurant! Add a sliced red bell pepper, shiitake mushrooms, mange-tout, and bean sprouts to your wok (or any veg you fancy), and cook for about 5 minutes. In a bowl, mix Schwartz garlic granules, soy sauce, and sherry, and pour over your vegetables. Add your noodles to the wok, cook for a further minute, and serve.
How about some sticky Chinese-style spare ribs?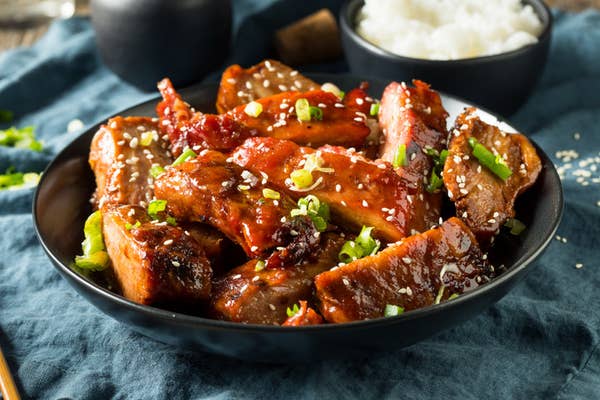 These pork ribs are perfect for eating as a starter or alongside a noodle or rice dish. Combine ketchup, soy sauce, honey, mustard, and Schwartz Chinese 5 spice for an authentic and lip-smacking flavour that will leave you craving more. Garnish your ribs with some chopped spring onion and sesame seeds to finish.
This flavourful saag aloo will be sure to rival even the best Indian takeaways - and it's vegan too!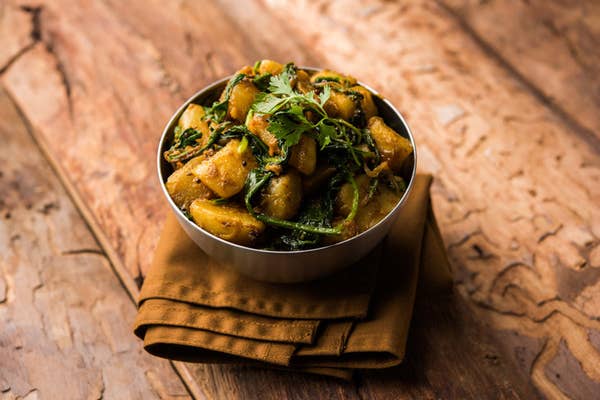 Indian cuisine is unrivalled when it comes to intense aromatic flavour, and this saag aloo is no different. Mix cumin, coriander, mustard seeds, black onion seeds, turmeric, garlic, and chillies to create an authentic flavour profile that will be sure to go down a treat. If you don't want to use spinach, you can switch out for another green veg like broccoli or kale for similar delicious results.
And finally, this vegetable dhal is perfect for a Friday night in front of the TV.
Packed full of aromatic spices this dish is a great alternative to ordering in. Combine cumin, garlic, cayenne chilli powder, and turmeric, with aubergine, lentils, and a veg stock. The spice blend will create a wonderfully warming dish with a punchy taste. In a separate pan, boil cauliflower and potatoes to bulk out your dish. Once the lentils have soaked up the stock and the mix is thickened, stir in your potatoes and cauliflower. Serve with naan bread and enjoy this hearty dish that is perfect for the winter months,.