A Guide to roasting vegetables
The simple vegetable can be one of the most versatile ingredients on our plate. It has the ability to transform any dish, adding both deep flavour and a variety of unique textures. We have lots of different categories of veg, from root vegetables like pumpkin, carrot and beetroot, to cruciferous vegetables such as broccoli and Brussel sprouts.
When it comes to cooking vegetables, there's nothing better than roasting to bring out their flavour – whether it's sweet, honey-drizzled carrots to go with your Sunday dinner, or smoky, flame-grilled peppers roasted on the BBQ. But roasted vegetables don't just have to appear as a side dish. Bursting with fibre and vitamins, vegetables are equally filling when served as a main course – take for example our aubergine hasselback parmigiana or turmeric cauliflower curry.
Each vegetable is different and will roast at different speeds, so it's important to make sure that they all cook evenly. Let this helpful guide on how long to roast vegetables for, provide you with an encyclopaedia of knowledge for how long to roast perfectly cooked, deliciously spiced vegetables every time.
How long to roast potatoes
Roast potatoes are a staple in British home cooking. Crunchy and crisp on the outside, but fluffy and soft in the middle – what's not to love about a roasted potato?
Often, if not cooked long enough, a soggy potato can disappoint the whole roast, so you want to make sure that roast potatoes are always cooked to perfection. Cooking the ultimate "roastie" is not as difficult as you might think, but there are three crucial things to get right. The first is the size of your potatoes – they must be relatively small to ensure they are all cooked evenly. Secondly, before roasting your potatoes in the oven, parboiling in water will ensure that they are wonderfully fluffy once cooked. Finally, the oil on your roasting tray must be piping hot before tipping your potatoes into the oven for roasting.
After parboiling your potatoes, be sure to give them a rattle around in the pan in order to fluff up the edges – this will help ensure that they come out crisp. To deepen the flavour of your potatoes, shake thoroughly with Schwartz roast potato seasoning. You will need to roast them in the oven for approximately 50 minutes, checking and shaking every 15 minutes for even cooking.
How long to roast carrots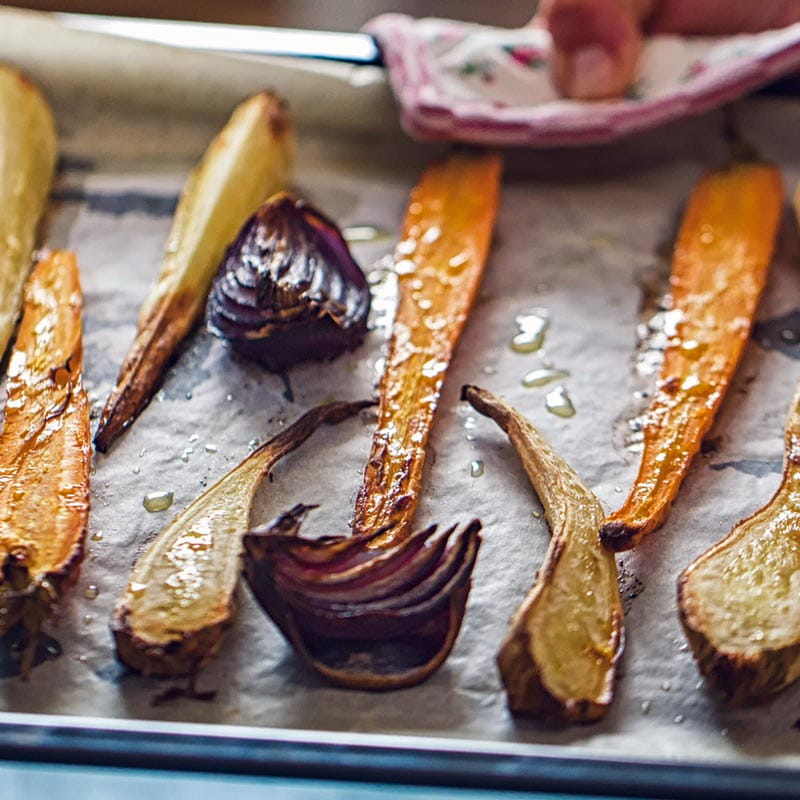 Root vegetables are a popular vegetable to roast. Roasting vegetables like carrots is a delicious way to caramelise their juices and bring out sweetness. While raw vegetables can often taste bitter, roasting them means that the dry heat of the oven helps caramelise the natural sugars within, resulting in the incredible sweet flavour of roasted carrots and parsnips.
Root vegetables usually take longer than other vegetables to roast. Carrots need to be roasted to a high temperature, ideally 200 degrees for around 45 minutes to ensure they are caramelized on the outside and soft inside. If roasted at a lower oven temperature, the vegetables will steam and overcook, losing their sweet flavours. For the ultimate Sunday roast, why not try adding your carrots to the same roasting dish as your herb roasted chicken.
If you're wondering how long to roast parsnips, generally, you should follow the same rules as carrots, but try amplifying the sweet flavours with added sugar and cinnamon, like in our recipe for spiced parsnips.
How long to roast butternut squash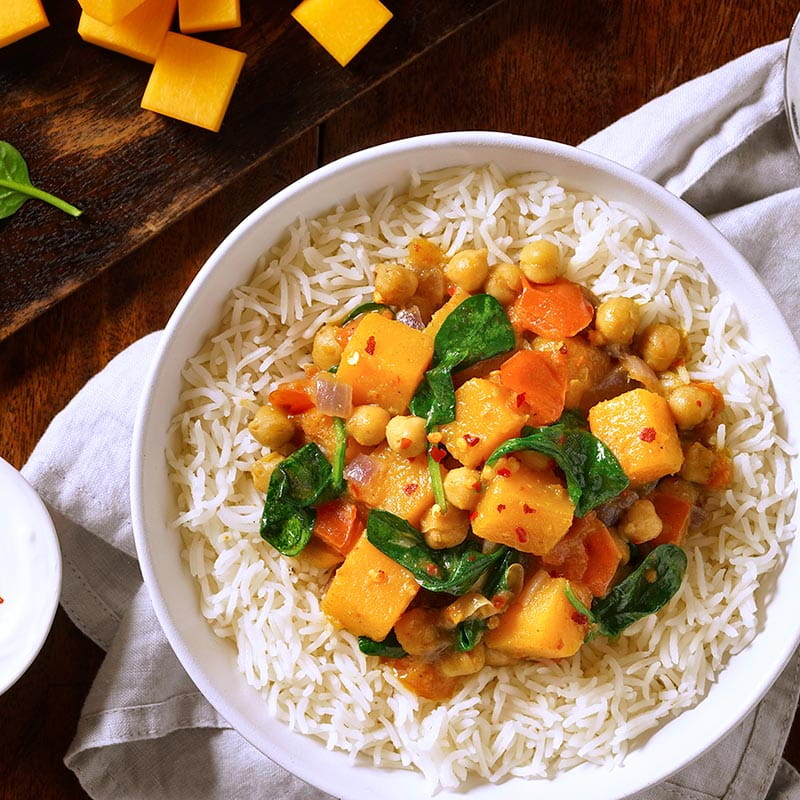 Butternut squash is a favourite ingredient in both meat and vegetarian dishes alike, particularly for its rich supply of vitamin A, potassium and fiber. Its plenteous, flavour-absorbing flesh means squash is a great vegetable for soaking up the aromatic spices in our butternut squash curry. But its characteristic sweetness means it is also a popular flavour of its own, like in our delicious butternut squash soup recipe.
When roasting squash, it's important to make sure you take care preparing it. Because of its hefty size, you'll need to ensure you use a large enough knife to chop with. Hold the squash steady on your chopping board and trim off the ends. Next, split the squash down the middle and scoop out the seeds. Chop into smaller bite sized chunks and toss with a drizzle of oil. You can add any spices you like here, depending on your recipe – but we recommend earthy dried sage or ground cumin to add depth. Squash should be roasted in the oven at 200C for around 25-30 minutes. Once all the edges have caramelised and the squash is soft in the centre, it is ready to eat!
Now you know how to roast vegetables to perfection, it's time to put your skills to practice! Our exciting and flavoursome vegetable recipes will show you how delicious roasted vegetables can be.